CES 2018: Ten Tantalizing Technology Trends to See, Hear & Feel.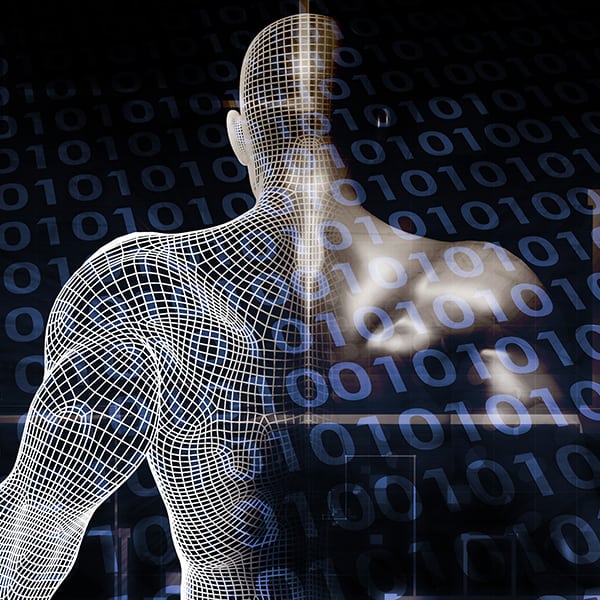 The Consumer Electronics Show (CES 2018) is the largest consumer technology exposition in the world. THRIVE attends every year as a matter of course — it's a wonderland of innovation, revolutionary thinking and all-around tech-spectacle. But it's also about a lot more than just introducing us to a bunch of cool new products. These pivotal few days each January serve as a lighthouse, illuminating the trends we'll see throughout the year ahead.  Further, the "C" in CES has become less about the "consumer" and more about "convergence." As such, we predict this year you'll see a lot of mashups: electronics and media, electronics and fashion, electronics and cars, software and hardware, home and security. But what's most fascinating is that all this coming together also belies another convergence — one that hits pretty close to home: a reduction of the functional gap between devices and the humans that use them.
We're not talking bionics (not that it isn't happening in the medical marketplace), but more about how flesh, bone and synapses can work more closely with ones, zeros and circuits — how humans can more naturally interface with devices, as well as the other way around. So, today's CES 2018 innovations are less about typing and inputting information, and more about devices "reading" us in the ways our bodies naturally communicate — with touch, with our eyes, with movement and gestures. This focus is why, in an era when tradeshow attendance is dropping and big, convention-center extravaganzas are becoming increasingly less relevant, CES has stayed on top, able to shift from being about "stuff" to being more about the innovations that have the potential to truly impact our lifestyles and digital lives. (It's also why the Consumer Electronics Association — CES's organizer — recently changed its name to the Consumer Technology Association; a small but symbolic move.)
Looking back, 2017 was dubbed by many "the year of the voice," and we're sure this will have a (forgive us) vocal presence again this year. But if we know anything, it's that technology is ever-evolving, and there's so much yet to imagine. So, here's THRIVE's look at 10 convergence-focused categories and trends we expect to come together at CES 2018 and all year long:
 1. The Internet of Ears
It was hard to escape voice technology at CES 2017, as the battle raged between competing voice control systems such as Amazon's Alexa, Google Home, Apple Siri and Microsoft's Cortana. The trend is not likely to end anytime soon either, as Natural Language Processing (NLP) begins to allow us to talk to our devices more conversationally, and adoption rates skyrocket amongst consumers. All in all, voice tech has proven itself to be much more than novel, and will be a branding slam-dunk for some, as it allows the creation of a living incarnation of a brand, complete with tone, depth and personality. Brands will simply have to choose wisely when determining how to present themselves. Male or female? Casual or formal? Proactive or reactive? Done right, it will offer deeper and richer engagement with products. Done wrong, you get Microsoft's Tay debacle (and a potential PR nightmare).
Looking ahead to CES 2018 we expect to see even more integration into a wider range of appliances with the emergence of more "skills" (which are essentially the voice-world equivalent of "apps.") Take Amazon for example. Borrowing from Apple's apps marketplace, the online marketer opened their platform to third-party creation of skills just months after launch, making Alexa exponentially more interesting (and useful) to consumers. Today, Alexa has more than 5,000 skills, from bill pay to advice from Good Housekeeping on how to remove wine stains from carpet. The implications to the customer journey are similarly huge. Brands will be smart to focus energy on identifying moments when voice can add real value to the customer experience, like providing in-the-moment support, cutting steps in a process or, of course, simply making life a bit easier.
2. The Internet of Eyes
The human face is massively communicative; we're capable of reading (and producing) hundreds of different micro expressions that last just 1/25th of a second each. And as your elementary school science teacher probably told you, no two human faces — even those of twins — are exactly alike. Given this, it's no surprise technology dedicated to reading the face, one of our most expressive body parts, has been lighting up the consumer marketplace for a while now. Last year, for example, Google's Nest launched Nest Cam IQ that can tell the difference between family members and strangers, allowing more accurate (and less frequent) security alerts at home. Apple even got into the game, including facial recognition as a way to unlock the iPhone X.
Moving forward, we'll see an uptick in this capability. "The Internet of Eyes enables all inanimate objects to see by leveraging computer vision analysis," says Evan Nisselson, general partner at visual technology venture fund LDV Capital (as reported in TechCrunch.) "Inanimate objects with cameras enable companies to own the first step in gathering the data for computer vision and artificial intelligence algorithms to analyze. Analysis may include object recognition, sentiment analysis, gesture recognition and many more human actions which will impact all business sectors and humanity." To the point, LDV Capital predicts that introduction of embedded cameras will grow at least 220 percent in the next five years. It will be interesting to see what CES 2018 brings us.
3. Autonomous & Connected Cars
The "self-driving" car was the likely buzzword of the year and a big theme at CES 2017, with panelists concurring that the first autonomous vehicles will hit dealer lots and public highways within five years. (Urban areas, with their complexities, may take a bit longer.) We've already seen Uber's rollout of self-driving cars in a few places, Faraday's FF 91 self-driver was unveiled at CES last year and is well into development, and Honda, Toyota and Hyundai all have enhanced vehicles in the works as well, each with techy bells and whistles from built-in AI to emotional recognition and links to smart home technology.
At CES 2018, we think autonomous vehicles and connected cars are likely to steal the show. Self-driving technology has gone from a Jetsons-esque dream to something that's actually real, and this year is the one in which we'll get much closer to feeling like riding in a vehicle with no one at the wheel is pretty normal. Similarly, just like our houses, our cars are also poised to become increasingly connected. See: cellular data connections that send info on maintenance issues and service reminders back to the cloud and vehicles that are able to receive and share data on traffic flow, road conditions and needed route changes. Self-driving cars, in fact, will require this to function, so expect the trend to go together like Atlanta and traffic jams!
4. Intelligent Food
The genesis of self-quantification gadgets happened around 2011 with the Nike Fuel band, and the category has grown exponentially from there, extending more recently to the nutritional domain where it's beginning to impact individuals' relationships with food and drink. From augmented-reality dieting aids and alcohol-aware ice cubes, to smart kitchen scales and holographic chefs, a whole bunch of tech-aided food prep and nutritional assessment tools have all appeared at CES in past years. Our prediction: While data visualization of the Fitbit and Fuel band-born ilk will allow introspection and a customized approach to wellbeing to continue to trend, CES 2018 will show us the next frontier, going deeper and addressing food scares, increasing allergies, and empowering consumers to much more closely monitor both what they put into their bodies and how their bodies specifically react to it.
We'll be looking for product developers to create smart devices that enable users to look beyond labels, packaging and menu descriptions to understand the contents of their food; gadgets that monitor personal dietary intake in addition to overall wellness, and prompt them to modify their behaviors, pushing the boundaries between self-control and responsive surveillance; wearables that track calorie consumption and spark a new generation of dietary aids; and a new batch of intelligent kitchen electronics that create more efficient, informed, even social cooking experiences. For a peek into the future of connected food, we'd recommend looking back to Hannes Harms' Nutrismart — a 2011 project that feels particularly apropos today. It embeds RFID tag technology into food to transmit nutritional info, allergy warnings and ingredients' route from farm to table to a hungry person's smart phone.
5. Intelligent Surfaces
A wave of recent advances in cell biology and materials science has enabled the ability to enhance surfaces with drawn-on sensors — incredibly, using a ballpoint pen. Nano-engineers at the University of California, San Diego, have developed "bio-inks" composed of different enzymes that react with specific chemicals. The ink is loaded into an ordinary ballpoint pen, and can be drawn onto a variety of surfaces; originally designed to measure diabetics' glucose levels when drawn on the skin, the inks have also been used to measure pollution on leaves. The future potential is wide-reaching:Researchers think the inks could eventually be used for things like detecting explosives on the battlefield and measuring toxic gases on building walls, in addition to other health-monitoring applications.
Meanwhile, groundbreaking interface developments are evolving away from solid surfaces to new, cutting-edge technology that creates tangible surfaces in the air, demonstrating that the importance of touch will become more commercially apparent. The ability to control and enhance our sense of touch has been named the next frontier in interface design, and we're sure we'll see it continue to evolve.
6. Gestural Control
While today's products and devices are often controlled by the push of a button or the sound of a voice, the next generation will work with the mere wave of the hand. Gestural interfaces are beginning to allow for a more seamless integration of digital technologies into our natural, everyday human behaviors. Take BMW's 7 Series, with cameras mounted inside, it converts hand gestures into commands: a raised hand and swipe motion toward the rear tells the sunroof to open, for example. Mercedes-Benz is also envisioning a future in which we'll be waving at our cars regularly. Its F015 Luxury in Motion features a "digital living space" with wall mounted display screens embedded with hand recognition sensors to enable gesture control.
At CES 2018, advances in gestural tech are poised to change the relationship between humans and technology with more intuitive interactions, but in the meantime, they're also offering brands new opportunities to engage in innovative ways. Growing numbers of big brands are using responsive lighting in product launches and marketing campaigns. A few years back Heineken created an interactive beer bottle filled with LEDS and motion sensors that lights up with actions like cheering or taking a swig. With the potential to turn everyday objects into an interactive experience, we're anticipating gestural control to grow, shaping both marketing strategies, and our daily lives.
7. Ambient Wellness
From devices that monitor indoor air quality to allergy-fighting carpets, the breadth of products allowing consumers to gain better control of their well-being and environmental health through will continue to evolve. Expect to see the next wave of wellness products at CES 2018 usher in intelligent devices that allow consumers to enhance their emotions as well as their environments. Design Academy Eindhoven is at the forefront of developing such human-focused products and services; graduate Desiree van der Gracht designed what she calls a "breathing" textile for her graduation project in 2015. Made of wool fabric and mohair, it integrates an airbag that mimics human breathing patterns and ambient lighting that responds to touch, all designed to produce a calming effect for users, and envisioned to be used for creating interior products from chairs to room dividers.
Looking forward, the potential to improve well-being will become an even more valuable selling point for product development across industries. Enrichment also offers a key opportunity: How can brands offer benefits that go beyond their main function or service through to physical surroundings or otherwise soothing componentry? Our thoughts: Interior, hospitality and retail brands will pair with creatives exploring sensory design — an area where there's a lot of potential for growth.
8. Body Tech
Advances in wearables have recently given us the ability to shift from tracking steps to diagnosing major medical conditions — even cardiovascular disease. Last year's CES introduced us to the BioRF artery radar, from Lohas Tech, a revolutionary sensor that detects artery pulse wave, which can be used to monitor PWV (pulse wave velocity), BP (blood pressure), and detect arterial stiffness — atherosclerosis — a condition that causes heart attacks. This made the traditional way to diagnose atherosclerosis (a big, expensive, hospital-bound machine) seem instantly outdated. With its non-invasive, cost-efficient, portable nature (the device currently comes in soft, flexible wearable adhesive bands), BioRF makes this kind of medical diagnostics accessible to many more people.
What's on the horizon? The technology is able to accurately track the vibrations without putting pressure against the skin, which means it has the potential for application in a variety of mediums, including clothing. As tech products are becoming more pliable and with growing research into bioresponsive materials and smart apparel, we'll be on the lookout for opportunities that show how clothing and medicine can merge. Our everyday world is already immersed in technology; with this, we can see it becoming quite literally part of the fabric of life as well.
9. Hyper-Personalization
Personalization is a perennial favorite trend across industries, owing to a seemingly never-ending consumer appetite for products and services that appeal on the individual level, from on-demand TV to customized running shoes. At the heart of this trend? Customer control. Warsaw-based start-up Tylko offers a great example of how brands are leveraging new tools to do just that. A furniture business selling bespoke shelving units, customers decide dimensions, styles and finishes, and their augmented reality mobile app allows you to visualize how it looks in your very own home. Of course, customization in retail is nothing new, but we're also seeing it in health and beauty goods as we shift towards more diagnostic, highly personalized healthcare expectations. L'Oreal proved this approach with its My UV Patch, launched at 2016 CES under its skincare brand, La Roche-Posay. A stretchable skin sensor, it measures and monitors ultraviolet light exposure, and gives your UV reading (and sun-safe recommendations) on the coordinating app.
As technology evolves, context and personalization will become finely tuned, and we expect to see much pf this at CES 2018. Use of environmental touchpoints – location, weather, time of day – will enable marketers to target customers on a one-on-one basis. Neuro-marketing innovation could lead to individualized advertising. And advances in artificial intelligence may also enable technology to continually learn about and adapt to our personal habits and preferences.
10. The Sensor Tsunami
At CES 2018, expect to see more sensors, in more places. It really is an inevitable trajectory, and we've already discussed many of their types and applications within the last 9 trends: from voice and facial recognition sensors, to biological and 3D imaging sensors. But researchers are also now developing sensor technologies that are becoming more "embedded" in the user; i.e. they won't just be placed into things — like a watch, phone or automobile — but eventually, into humans. In the case of this trend, the future is already here: in November 2017, the FDA approved the first pill embedded with a sensor; "digital medication" that's a version of the antipsychotic "Abilify." The ingestible sensor sends signals to a wearable sensor patch, then transmits data to a coordinating app. Its main purpose is to aid in medication adherence (non-adherence or noncompliance to medication costs ends up costing the U.S. billions each year) but it also tracks heart rate, blood pressure and other health data.
Sensors are only going to grow more powerful and more impactful, and the potential for their applications are seemingly endless, but there's an opportunity for brands not just in developing the technology of sensors themselves, but in making sense of the overwhelming, ever-growing flood of data they capture. Within the deluge of information lies patterns and insight that can be used to deliver more meaningful experiences to customers — and to the world at large — widening our senses, monitoring our parameters and improving our environments. We wonder: can CES 2018 deliver meaning from this mass of data?
The way we interact with products and services is no doubt evolving as technology becomes increasingly integrated into everyday life. And as we become more and more used to tech around every corner, a connected thing is happening: familiarity is also increasing consumers' desire for continued digital solutions for real-world problems. If technology is really becoming part of the fabric of life, brands must leap into the hybrid age and adapt to the next step in the melding of man and machine.
We can't wait to see the new product developments and how brands start to close that gap at CES 2018!