Designing Digital Experiences for Patient Behavior Change

Designers have been turning to mobile phone applications as a means of helping people and patients adopt behavior change and make healthier decisions, especially those dealing with chronic diseases like diabetes, but changing people's daily habits isn't simple, and it's easy for people to ignore an app. The ideal solution lies in creating digital experiences that empower the user, providing health insights and human understanding to help shape positive behaviors. We've outlined a framework to help design for behavior intervention in a way that offers higher value to the user — and, in turn, your business. 
We talk a lot as designers about the importance of behavior change when it comes to creating experiences in the healthcare industry. It's an important topic considering 7 in 10 deaths in America are the result of chronic diseases each year, which amounts to 75 percent of the nation's health spending, diseases that are often due to poor health decisions, and are mostly preventable. Heart disease, Type 2 diabetes, obesity, and even some forms of cancer can be traced back to poor personal habits developed over time that eventually lead to these conditions. Even after diagnosis, the treatment of these diseases can be impacted by patient behavior: although the medicines prescribed help the person tremendously suffering from these conditions, patients don't always stick to their medication routine. The CDC reports that non-adherence causes 30 to 50 percent of chronic disease treatment failures. 
The knee jerk reaction is: "We have to stop this and change these people's behavior!"
The modern-day solution is: "An app!"
Mobile Phone Apps for Healthcare Intervention 
As designers, we know that mobile devices have given us the toolkit to start changing people's behavior on a massive scale. People of all ages have one, a pocket supercomputer with built-in sensors, location data, and the ability for users to input how they are feeling about even the most mundane details of their lives. It's easy to look at people everywhere with their phones glued to their faces and think, "If only they cared about their health the same way they care about Instagram. With a healthcare app on their phones, we could get access to them and help change that."
Unfortunately, it's not that simple. 
There are legal and ethical concerns:
If patient behavior has been deemed unhealthy or not ideal, what happens if they don't consent to behavior change (assuming that is even possible through an app alone)? Do their insurance rates go up? And what if the patient follows guidelines given in a health app, but then something terrible happens; who is accountable? 
And practical ones:
How would we measure if an app is working or not working for a long enough time period to make a difference in someone's life and positively impact their health? 
We must also consider why people use their phones so much in the first place. It's a release, a way to laugh or connect in an increasingly divided society. Mobile phones provide a moment to disengage from the stress of modern life, but a healthcare intervention app could be a potent reminder that they are sick and have to do something unpleasant to treat themselves. It may also have the potential to make them feel worse, scolding them for forgetting to take their meds that morning. 
There are thousands of articles published in public health journals on behavioral interventions and behavior change, based on theories that are not one-size-fits-all solutions. A common thread, however, is the need for patient consent and the value of user empowerment. 
POSITIVE BEHAVIOR CHANGE
It's effortless for us to armchair quarterback people's life decisions, but as designers, we need to focus on empathizing with users rather than force our will on to others if we are to realize any meaningful behavior change in individuals. We need to empower users to understand how their behaviors impact their future and take the right course of action. The user not only has to be part of that conversation, but they also need to drive it and develop a plan that seamlessly blends with their existing habits, repertoires, and routines to help them make the right decisions. 
Merely reminding a user that they didn't do something is not only ineffective, but also a motivator for people to turn off their notifications, or worse, delete your app. Our value as designers in the behavior change equation is to create experiences that provide insights and understanding, and even personalized suggestions, that can help shape positive behavior with their consent and guidance. 
Understanding Business and User Goals
Designing for behavior change requires understanding both the objectives of the app and the needs of the user. We've outlined a behavior intervention framework below, and how each step can provide value to both businesses and the end-user:
1. Design an app that fits from a content and user experience perspective.
Choose the platform that works best for the experience you want to deliver and the change in behavior you want to see. Consider other forms of interaction beyond the typical screen — it could be a voice-based application for Alexa or Google Assistant, for example. Tailor your work to ensure that the look, the language, and the interaction with the app fits the needs of the target consumer; if you're designing, say, a child's asthma application, it might be colorful, with playful graphics and fun messaging for example. 
Business Objectives: Build brand equity by aligning the experience with your purpose and values (e.g., Under Armour is dedicated to enhancing performance for athletes, so it makes perfect sense for them to have an app like MapMyFitness to track workout activity). This level of relevance and cohesiveness creates the trust that increases buy-in so you can monetize the experience. 
User Objectives: Deliver compelling content and experiences that delight the user, so they have a reason to begin and continue using the app long-term. In other words: is it worth doing? Make sure it delivers on its promise, and that it's not too difficult to use. 
2. Select a theory-based intervention that is appropriate to these users. 
Consider the cultural, psychological, and social factors that impact a user's behavior. A theory-based approach helps guide app development to be more effective based on existing research and analysis. (The transtheoretical model, for example, relating to people's readiness and confidence in their ability to change, is widely used in behavior interventions.) Theory-based interventions need evidence to solve targeted behavioral issues and improve health outcomes. Consider conducting pilot interventions with a small representative sample, and then continue to measure results based on usage.  
Business Objectives: Establish an approach that allows for continuous improvement using theory-based interventions that enable the business to increase the lifespan of the product. Just make sure the organization supports this model of research, which means you need to think about app release dates in terms of an initial release, and then updating within a schedule. 
User Objectives:  Assure users that the app has been developed based on evidence and documentation (theory-based interventions) from other users in similar situations. People don't want to waste their time with something they don't think is going to work, or won't fit within the context of their everyday life.  
3. Define key interaction moments through the user's journey.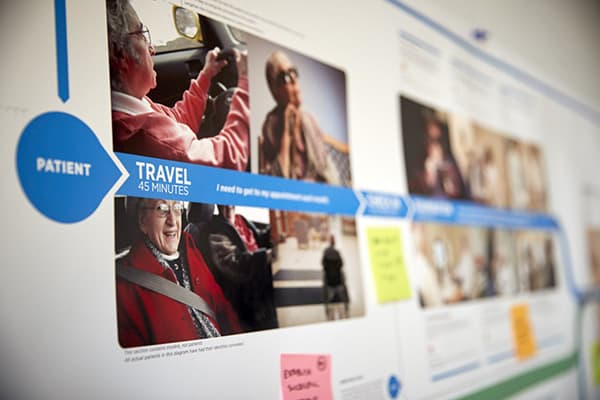 Understand the user's journey to identify the pain points and critical moments of truth that, when addressed, will elevate the overall experience from mundane to delightful. Based on your target users, there will be times when they'll have heightened levels of motivation or a feeling of being "stuck" when there is a higher likelihood to impart change. For example, key life stages like getting married, retiring, or having kids.
Business Objectives: Maintain a continuous user base to achieve your business objectives and focus heavily on those critical moments of truth when people are going to sign up or transfer from a free to premium service. 
User Objectives: Drive the experience from the identified critical moments of truth. These are the moments when users are ready to take action and are actively looking for solutions; support the user along the journey with empathy. By explicitly designing for them, you can ensure an ongoing, engaging experience for all. 
4. Optimize the intervention point.
Continually refresh the point of intervention with new content. Why? Because the first time you see the phrase "Hey Jonny, it's time to take your meds…" it's then personal, and they are more likely to be motivated to respond, but by the fiftieth time, the impact is likely lost. Keep users motivated by offering new and different content at the time when it's alerting you to take action. Maybe it's written in a way that references their usage over time, encouraging them to reach new levels of adherence. 
 Business Objectives: Optimizing user engagement to maintain loyalty, and expand their reliance on your product. You want to keep your users; you don't want them to delete your app.  
 User Objectives: Fresh content at the intervention point can support the user's confidence in their ability to accomplish their personal goals, which makes them more likely to continue engagement. 
5. Actively manage app development.
Create feedback loops to learn from users about how they're using the app throughout their journey and then adapt, evolve, and tailor the product. Monitor and optimize how users are engaging with the app by dynamically designing key performance indicators to act as experience sensors and provide you with critical data points for continuous improvement.
Business Objectives:  Create new features based on usage (or lack thereof), from the information gained from user feedback, and making sure you are ahead of user needs — and the competition. Key performance indicators (KPIs) support business objectives and give you critical data to promote your business goals.  
User Objectives: Continuously tailor and personalize the product based on how users are interacting with the application. Introducing new features to address their needs better, so they'll not only be more engaged with the app, but they'll also feel more supported in their journey.
People should be free to live their lives, empowered by the experiences you are providing them to better themselves, their health, and make progress towards their goal. When executed well Design has the power to create the right digital tools that facilitate the critical and necessary conversations with clinicians, caregivers, family, and friends to help improve patient outcomes.
 Contact us today to talk about how our consumer insights and digital experience design expertise can help empower your medical device development and shape positive patient behavior.