THRIVE, Celebrating 12 Years As a World-Class Product Design Studio. A Retrospective.
THRIVE began as an under-the-radar idea more than 12 years ago and is today respected as a top product design studio. Founders Jonathan Dalton and Trent Kahute worked together at Phillips Design, where they had a strong working relationship. When Phillips Design decided to shutter the office, Jonathan and Trent each had the idea of launching a product design studio of their own. But after discussing what a design agency might look like, they realized their visions were complimentary of one another and shared a common desire — to start a world-class, insight-led, and human-centered product design studio and innovation firm. Jonathan and Trent also knew they would have to start off small and scrappy to create this "different type of firm" — one that would ultimately combine design strategy, product development, and digital product design under one roof in an end-to-end service offering.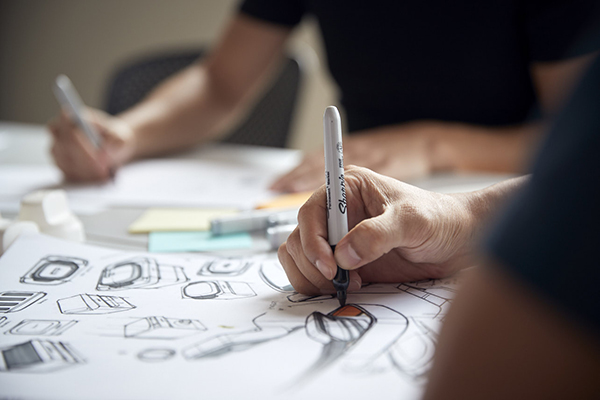 That's why before THRIVE was ever THRIVE, the founders launched it under the code name "Project Underdog." They knew that to make this design company successful, their design team would have to punch above its weight. Additionally, the name Project Underdog stemmed from the idea that in the business world, naysayers will always exist, and the vast majority of people will doubt your vision. However, underdog also implies that something is underestimated. Jonathan and Trent were determined to prove that their up-and-coming design consultancy could produce the quality work that much larger firms with much bigger teams were producing.
As this evidence-based approach became clearer, THRIVE's identity as a product design studio emerged. The essence of THRIVE was part science, part creativity — and as this approach evolved, the design firm coined the term "Informed Design" to describe it. Informed Design™ is a researched and evidence-based approach to the design process that is both insight-led and human-centered, using branding to give guidance and meaning to innovation. THRIVE wanted to holistically focus on brand-driven innovation fueled by purpose and insight instead of the approaches that many tech-led or financially-driven companies lean towards.
"We believe in the work we do. Breakthrough insights and authentic design are always in high demand. If you deliver quality work and a uniquely tailored approach for your clients with an engaging experience, clients come back again and again," says Kahute. "Corporations need help designing better user experiences. Our confidence came from identifying breakthrough insights and our ability to make those actionable for product development through design strategy and creativity."
This commitment to excellence and Informed Design™ has seen THRIVE work with a host of Fortune 500 companies, startups, and nearly one-third of the world's top 30 medical device technology companies.
"For a smaller product design studio to be working with the biggest and the brightest — without us having decades and decades of experience — is something we are really proud of," says Dalton. "We have vertically integrated capabilities from product strategy to experience design to engineering with a high-quality roster of team members to work alongside you and get you the result you need. We are a learning company and an evolving holocracy who loves to see Thrivers come in, grow and develop their skills."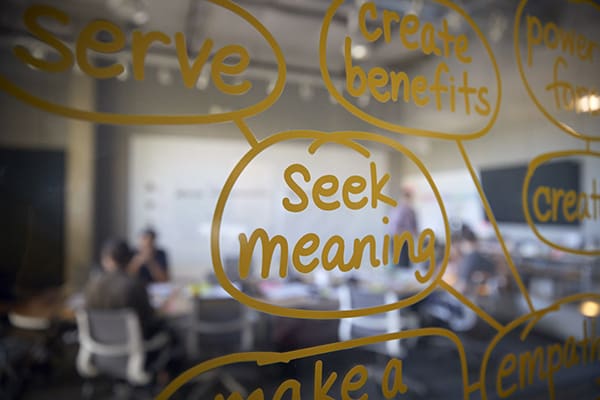 THRIVE has a client retention rate north of 90 percent due largely to delivering impactful business outcomes for its clients. They continue coming back because THRIVE's work leads to organic growth and improved product offerings and bottom lines.
As THRIVE has executed projects for Amgen, AT&T, Becton Dickinson, Bristol-Meyers Squibb, Coca-Cola, Medtronic, Wolf Gourmet, Mirion Technologies, Weber-Stephen, and countless other companies, the product development company has continued to evolve; however, it also continues to combine the analytical rigor of a management consultancy with the creative and entrepreneurial spirit of a design firm.
More recently, THRIVE has been navigating the pandemic and the challenges that come with it, just like the rest of the world. Fortunately, several of THRIVE's clients have been taking the long-view and commissioning "Visioneering" programs to explore the creation of potential new futures, which has served as an opportunity to reflect inwards.
"The things we've done around vision and foresight always account for volatility, uncertainty, complexity, and ambiguity (VUCA). We never give clients a singular future. We have tools to explore multiple future scenarios. Things that really show what's beneficial versus detrimental. We may, for instance, be looking at a world where pandemics are the new norm," says Kahute. "Normally, we would go into hospitals, but that hasn't been the case because of COVID. We've pivoted to remote methods and have learned to gather disruptive insights despite being limited in our ability to conduct in-person research. We do some work with mobile ethnographies and now design week-long studies instead of things being curated for a short in-person visit."
Fortunately for THRIVE, the business didn't slow as much as it was simply altered in every sense. But the pandemic and the drastic changes surrounding it presented the strategic design firm with an opportunity. After more than a decade in business, the pandemic created a moment of pause to evaluate what THRIVE could be going forward and what should remain both internally and externally.
"The pandemic showed the resilience of our team. People had a lot of strength to stay together as a team. We've seen a massive uptick in demand because companies worldwide are scrambling to figure out what customers want and need. Companies are trying to figure out new ways to grow and adapt," says Kahute. "A strategic pivot we made 6 years ago as a product design studio was to focus more on healthcare and medical device development. It aligns with our core values and what our team is passionate about it. We are also vertically integrated to make this happen from research and design strategy to industrial design and digital experiences, usability, engineering, and packaging design."
But even more recently, THRIVE analyzed its values and future yet again and committed itself to innovate at the frontiers of health and well-being. The strategic design firm chose to focus on well-being in part because well-being can be applied to various industries. Yet, it gives the product design studio a metric to measure what projects it takes on instead of simply accepting any work that it's offered. Plus, it sums up THRIVE's mission in many ways. THRIVE believes good design improves people's lives by delivering meaningful experiences that create value by valuing people.
"Our passion is to design a world where people thrive everywhere," says Dalton. "Well-being is defined as the state of being healthy, happy, and comfortable. This applies to healthcare but also to other industries and our own employees. Everything we do is measured by whether or not it creates well-being in the world. Does our work enrich lives better? That will be an increasingly intense focus of ours going forward."
This emphasis on well-being is another reason THRIVE embraces the opportunity to rethink the workplace. The pandemic forced adaptation, but the question is, how can this new mode of work strengthen cultural ties? People enjoy having connectivity. Can that be maintained in a flexible work model? Isolation can be difficult for mental health. Can isolation be minimized, and employee well-being is maximized through a mixed approach?
"I have always had a strong desire to create a fun and inspiring workplace, and I feel that the THRIVE team is a perfect match for me. They are a creative, passionate, and courageous group of folks. The future is bright at THRIVE, and I'm excited to be a part of that," says Pete Srodoski, who joined the company as COO in 2021.
"One of our big goals for 2022 is resetting and prototyping our new work model. There's an opportunity to restructure. This coming year is the perfect setting for optimizing our operations and continuing to bring in the right people to grow and scale," says Kahute. "In the same way that we encourage our clients to keep iterating and gathering feedback, we're excited to do the same thing for ourselves. After more than a decade in business, we've been growing at a calculated but still rather rapid pace. Now, we get to use our own award-winning methodology inwards to put into practice our intention of helping people thrive everywhere."