THRIVE is Hosting an Experience Mapping Masterclass at the Chief Experience Officer Exchange in Miami, FL.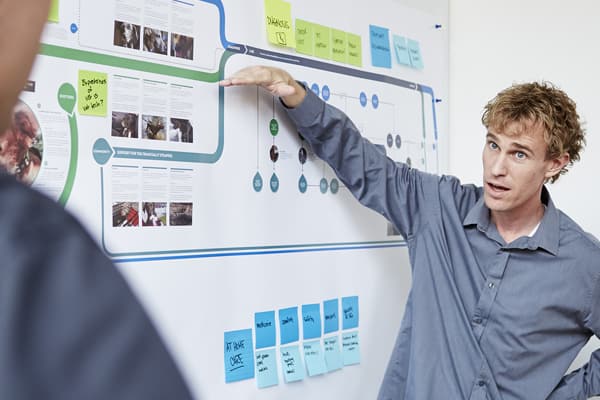 THRIVE is hosting an Experience Mapping Masterclass at this year's Chief Experience Officer (CX) Exchange on November 3-5, 2019, JW Marriott Marquis Miami, Miami, FL.
THRIVE's very own Trent Kahute (Chief Creative Officer) and Bradley Bergeron (Associate Director of Service Design) will be running a Masterclass on "Unlocking New Value Through Experience Mapping."
UNLOCKING NEW VALUE THROUGH EXPERIENCE MAPPING
The humanization of brands and businesses is in full-swing with customer experience serving as a powerful driver for change. Organizations that can skillfully create, orchestrate, and consistently deliver compelling experiences can reap huge rewards including enhanced customer satisfaction, increased revenue, and brand loyalty. This Masterclass session gives Chief Experience Officers (CXO) and Customer Experience (CX) professionals responsible for the delivery of the overall customer experience the practical tools and methods needed to identify unmet needs, frame opportunities for new value creation, and ultimately deliver desirable experiences for customers, business partners, and internal stakeholders alike.
We will share:
– How to capture the behaviors, interactions, and emotions of people in a context over the course of a defined experience.
– How to identify and contextualize the pain points and unmet needs of customers and other stakeholders.
– How to identify gaps in the current experience, key problems to solve, and how to use them as a basis for seeing new opportunities.
– How to align internal stakeholders by taking an outside-in view that cuts across functional silos.
– Mini case studies demonstrating how this approach has helped our clients to create compelling customer-driven experiences.
About Chief Experience Officer Exchange
This year's Chief Experience Officer Exchange gathers top-tier patient and customer experience executives across the entire experience journey to discuss how to design and deliver more differentiated and delightful experiences. Topics will include:
– Data centralization: Centralizing data is key to personalizing the experience and reducing customer effort
– Digital Transformation: How do we compete in the experience economy across digital channels?
– Hyper-personalization will be driven by real-time engagements- as real-time, multi-stage customer journeys become more important.
– Brand Experience—increasing expectations for social media support and customized experiences.
– Predictive analytics (with a generous dash of customer emotions) – evaluating data and understanding how best to optimize your experience.
– A company's culture and philosophy – superior experience needs to be an integral part of a company's culture.
About THRIVE

THRIVE is a strategic innovation and experience design firm helping ambitious leaders build iconic brands through informed design.  We help clients feel courageous. Our clients walk away with the conviction and confidence to design what's next.
Based in Atlanta, Georgia, THRIVE is an experienced group of researchers, strategists and product developers who work at the intersection of design, the social sciences, and business to help companies create new value. Our expertise in generating insight, envisioning new ideas, reinventing categories, and translating brands into tangible experiences, has helped leading companies to THRIVE.
For Media Inquiries Contact
THRIVE
[email protected]
770-310-0376
1000 Marietta Street NW, Suite 290, Atlanta, GA, 30318.
DOWNLOAD OUR YELLOW PAPER ON CUSTOMER JOURNEY MAPPING HERE.